Call for an appointment today!
Monday 9 am-2 pm Thursday 5-8pm, Friday 8am-10pm Saturday 9 am-6pm,
303-995-9170
Experience a healing massages that goes deep but without the lingering pain that comes with a deep tissue massage.
This massage is grounding, increases your Alpha & Theta waves, you will feel less stress and ... the subconscious mind is
empowered to invoke and augment a natural healing process.
$65 for 1 hour, $80 for 90 min. $140 for 2 hours


MASSAGES All massages are received on "the Bio Mat"
infra red heat, negative ions and Amethyst crystals
Intuitive Touch Massage
Intuitive Touch Massage is a deep connection to the Divine. Depth and pressure, contact and speed are perfectly balance. Transitions from one body part to another are so seamless they do unnoticed. Your muscles natural ability to relax, your resistance dissolves without pain. There is a presence where communication is not reliant upon words. Remembering what you always new were possible and not yet found in a massage until now. This is a holistic healing experience that deeply respects and connects you to the divine.
Client Testomonial..Lynn, thank you for another one of your blissfully trans-dimensional massage, taking off layers of stress and adding 4 years of energy and life to me! I continue to learn, grow and be amazed...Chris K.

Benefits from Massage with Energy Healing & Balancing

Illness in the body is caused by an imbalance of energy or blocking of the energy flow. In other words, a lack of flow in the human energy system eventually leads to pain and disease. It also distorts our perceptions and dampens our feelings and interferes with a smooth experience in life. We are like sponges in the energy sea around us. We exchange energy with everyone we come in contact with. We are exposed to negativity everywhere and it accumulates in our energy field. During your treatment I use highly effective energetic techniques to release these energies. Not only will you have less tension and pain in your body. Releasing these energies can give you a renewed sense of vitality. Take control of your life; restore the magic, beauty, and grace that are rightfully yours.


Reiki Healing Massage
Receive a unique Massage that promotes natural self-healing. It balances the energies in the body. Clearings and normalizes your emotional body. This massage balances the organs & glands. Strengthens the immune system, treats anxiety. Treats symptoms and causes of illness relieve pain, clear toxins, clears stress. Enhances personal awareness, creativity and vitality. Releases blocked suppressed feelings and creates positive thinking.

Benefits of Healing Touch Massage Therapy
Many people live each day with unnecessary chronic pain. Muscle tension aggravates pain. Chronic pain causes stress on the body which can be emotionally draining, mental distracting, disrupt sleep patterns and increase anxiety. Massage is one the most beneficial techniques in treating these problems. Massage increases circulation, hence increasing oxygen to the cells. Massage and Healing Touch eases cancer symptoms massage therapy and healing reduced pain, mood disturbance (anger, anxiety, depression, confusion) and fatigue in cancer patients undergoing chemotherapy, according to a recent study. With regular treatments experience more balanced and revitalized energy!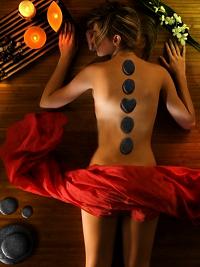 Benefits of Hot Stone Massage A massage alone is an amazing treat, but adding hot stones transcends the experience to a heavenly realm. Being massaged with heat, versus simply leaving it in place, actually melts the tissue and opens tight muscles twice as fast as hands alone can ever do. Hot stones are also extremely grounding, calming a client and helping them to drop even deeper into the full experience of your massage. The benefits are simply endless and the experience out of this world.
Hot Stone Massage involves the application of water-heated basalt stones of varying sizes to key points on the body, giving a deep massage and creating sensations of comfort and warmth. These treatment dates back 5000 years to the Indian and Mayan cultures. These therapists used "tools" provided from the earth to better heal and calm; their hands were only used for manipulation and some healing. These rocks come from river beds and were warmed on hot coals. The therapist would place these stones along the energy centers of the body, causing healing to occur. These stones seem to connect with the flow of energy to rebalance the physical body, emotional mind and spirit as one. These stones can also be effective when used during Reflexology treatments to de-stress and stimulate tiny nerve endings in the feet.
Neuromuscular Massage and Deep Tissue
Neuromuscular Therapy balances the body's central nervous system with the musculoskeletal. The goal is to help relieve pain dysfunction by understanding and alleviating the underlying cause. It is used to locate and relieve spasms in the tissue, eliminating trigger points that cause referred pain. NMT can help restore postural alignment, increase flexibility, and rebuild the strength of the tissue.
Deep Tissue techniques utilize deep muscle are adminstered to affect the sub layer of musculater and fascia. It helps with Chronic muscular pain and injury rehabilation, and reduces inflammation related pain casued by arthritis and tendonitis.

Couples Massage Workshops Private Lessons
Call for an appointment today!
Monday 9 am-2 pm Thursday 5-8pm, Friday 8am-10pm Saturday 9 am-6pm,
303-995-9170